Audiophile THIXAR equipment platforms – The Fundamentals of Sound.
"… they could really bring the performance of an LP system or a SACD/CD player to the next level. Don't forget that this product was initially designed and developed for high precision laboratory use. … That's why I call call Accurion Silencer a 'Vibration Free Platform'. … If you think you have done an excellent job in configuring your CD transport or LP system, I strongly recommend you check out Silencer. You will quite certainly discover a lot of details that your have never heard before, thus having a strong desire to go over your CD / LP collection again."
Lincoln Cheng, Audiotchnique, No.346, 01/2012
HiFi Equipment Platforms

Accurion Silencer:
Active damping in perfection
The disturbing influence of vibration has its origins in buildings, in people moving through the room and also in airbourne wave input from the loudspeakers. The company Accurion, developer and manufacturer of the Silencer, possesses proprietary know-how in active vibration isolation, providing visuals even of single atoms in modern nanotechnology where vibrations have to be absorbed close to 100% to receive a pure result.
In the audiophile arts, the same sources of disturbance lead to a distorted rendition of audio signals. The Silencer´s active damping system suppresses these disturbances perfectly, delivering spectacular results that are simply not available with a passive vibration isolation system.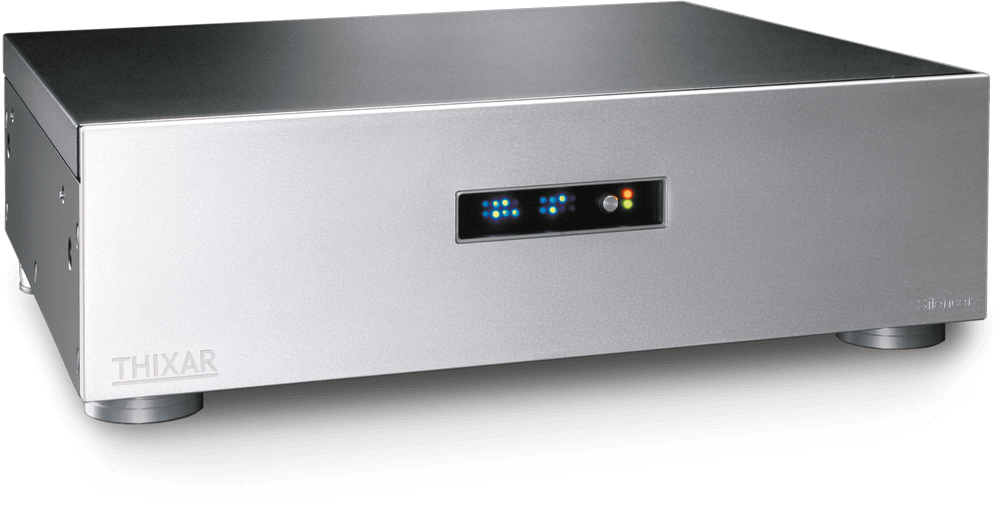 That´s why the Silencer focusses on high performance analog record players, CD-players and other audio components especially sensitive to vibration. It offers you a new kind of absolute sound – the ultimate listening experience! Only its LEDs hint at the complex inner activities: ultra-fast control engineering absorbing vibration amplitudes in the micron-area.
Although being a true piece of high technology, the Silencer is easy to install and operate. It requires a stable installation location and electricity. Uneven surfaces can be balanced. The most important thing is to adjust the Silencer to the weight of the device placed on top, which can be done with the Allen wrench that comes with the Silencer.
So that´s about it: unpack, connect, put device on top, adjust – enjoy!